Connected North Champion Profile: Sean St. John
It's a hard reality in Canada that children in many of our northernmost Indigenous communities face real challenges each and every day. Social issues that stem from intergenerational trauma are compounded by the remoteness of these communities and the difficulty of reaching these youth with the resources and support they need to realize their potential.
This is not lost on Sean St. John. Drawing on his Mohawk heritage, his commitment to helping young people be the best they can be, and his passion around the importance of sports to build confidence and resilience - Sean did not hesitate for a second to get involved in supporting Connected North. By using technology to conquer the challenges of time and distance, students in the north are gaining access to much needed resources and learning opportunities.
Connected North is a breakthrough program that uses high definition video technology to virtually connect children in isolated northern communities to experiences, opportunities and educational resources not available to them locally. With the Connected North network, classrooms from the Yukon to Nunavut can connect to mentors, to virtual field trips, to children in the south and to each other – with a view to building resilience and success in school and in life. Connected North is a new model for virtual, on-demand learning – one that's supporting classrooms across the north.
Today, the network serves nearly 10,000 students across 42 schools in all three territories and five provinces. But many more schools are interested in these services. And so, in 2018, TakingITGlobal launched the first ever major fundraising event – the Tech4Good Connected North On-ice Challenge – a one day hockey tournament with each team raising money to earn their place in a "draft" of NHL alumni to join them on the ice! Bryan Trottier, Canada's most decorated Indigenous athlete was the first NHL alum to sign up. Of Metis heritage, he was moved and compelled by the potential for Connected North. And when he heard that we needed to attract teams – his first call was to Sean.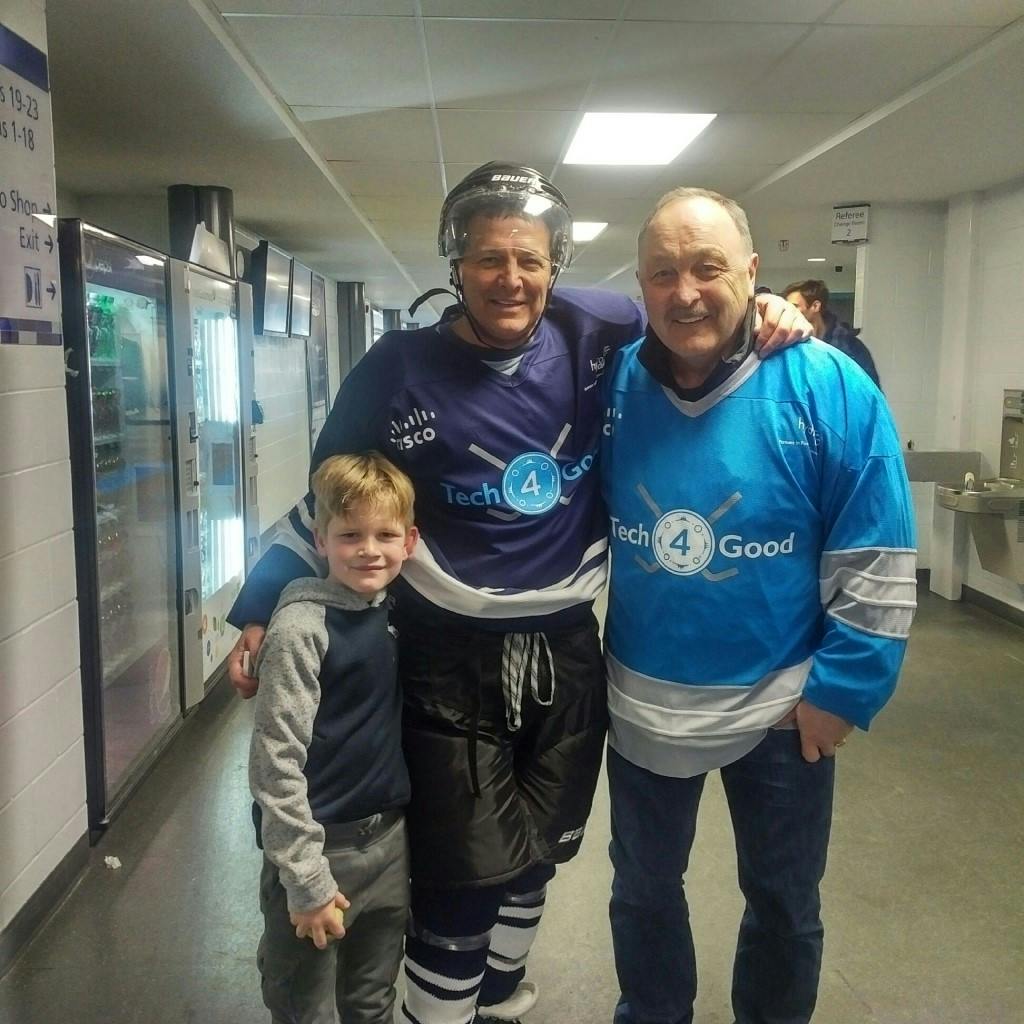 Sean first met Bryan at the Road Hockey to Conquer Cancer in 2011 and the two not only share a passion for the game, but also for giving back where it counts most in the country. It's always a leap of faith to join a first-year effort – but when Bryan reached out to Sean – Sean didn't blink. He was immediately on board, and immediately looking for other ways to help Connected North, to link them to opportunities to build their network and their brand. As Captain of one of the first teams on the Tech4Good leader board, he rallied friends and colleagues, brought his characteristic focus and energy to fundraising, and instantly became one of the most passionate champions of the cause, and the tournament itself. Raising an impressive $16,700 Sean made an incredible contribution to the amazing success of this first-ever tournament, which raised over $300,000 for the program.
We came to understand that Sean is someone you can count on. His commitment to helping children in some of this country's most isolated communities is authentic and purposeful. He doesn't get involved in something unless he knows he can make a difference, and he can encourage others to follow in his path.
We are so grateful to Sean for his leadership and understanding of the urgency to strengthen educational opportunities for children in the north. Tech4Good brought First Nations children and community leaders to the ice to come together and to share experiences and the joy of hockey in a wonderful one-day event.
This year, Sean wants to see us bring more children to experience the magic of hockey and skating with some of hockey's most well-known and well-loved stars. So it was not at all surprising when he offered a personal contribution to bring players from Nunavut to join us in 2019 so that we can all come together, bound by the love of the game and the commitment to raise more awareness and support for Connected North. Sean leads by example – he takes seriously his responsibility to use his energy, his network, and his personal strengths to help others. He gives generously, and when you know Sean is on your side, you know your odds of success just got a lot better.
Thank you Sean!